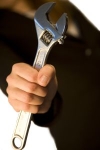 Sigma Trade Company cares about hight quality of products and our customer satisfaction. We offer products thats meet the high criteria of quality and safety for the user (confirmed by certificate CE, ISO 9001, TUV, ROHS). The guarantee of satisfaction our Clients is original development of industrial prototypes and safety for the use of products. From beginning of our activity we made Customer Service on high level, that is why we created on territory of whole country the professional network of the Authorized Service Points (APS), that is created by the best specialists in sanitary industry in Poland.
In the care about comfort of our customers and the quality our service we introduced the chance of reporting the defects products on-line, by our web site. The form of service requests is accessible here Service Form. We answer during 48h.
Customers which prefer the traditional solution to send complaint can print the form customer complaint and send it by e-mail to following address: This email address is being protected from spambots. You need JavaScript enabled to view it. or by post to our correspondence address: Sigma Trade s.c., Przedzalniana 6F St, 15-688 Bialystok

Download the complaint form in .pdf format, then fill it and send to us. To the complaint form please attach copy the warranty card and proof of purchase (invoice of receipt).
If you have any questions, you can call to us Service Centre 85 733 52 13, Contact: monday - friday, 9:00 - 18:00. You can also ask us by e-mail: This email address is being protected from spambots. You need JavaScript enabled to view it.